Many users have requested that Metasonix produce tube modules in formats other than Eurorack. We will offer these modules as special limited-production items. They will be based on RK modules except as noted, and use heavy aluminum front panels with engraved and paint-filled lettering. It's deluxe and special!

Random*Source/Serge format
These are in the 178mm-high and 108mm-wide "4×4" format used by Random*Source to produce Serge/STS-compatible modules. Each module combines the functions of two standard RK modules. They fit any Random*Source cabinet or "boat". Banana jacks are fitted for all input and output functions; each module includes a front-panel ground jack to make interconnections to other Serge-style cabinets.
Included is a special adapter cable to connect to the MTA-156 connectors in Random*Source cabinets; we strongly suggest using the Random*Source PS6 or Konstant Lab CIHLA supply to run Metasonix modules, due to the considerable cold-startup current needed to power the vacuum tube heaters. (RS's RS4P supply is turning out to be "marginal".) Smaller R*S power supplies or Serge/STS supplies might have difficulty with the load. Loudest Warning/Clee cabinets have a different panel size and mounting hole arrangement plus a different power bus, and are not recommended at present. Otherwise, all the standard RK functions and effects are available.
THREE types are now available:
The "Bellend" contains an RK4 and RK2.
The "Crapulescent" contains an RK3 and RK6.
The "Dual Brutal Oscillator" contains two RK7 VCOs with built-in oscillator sync which is not available in regular RK7s.
All the "Metasonix Magic" for you, in the "wrong" panel format.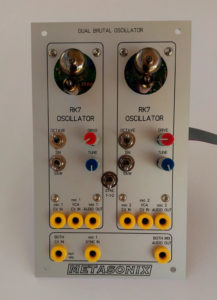 Buchla format
Our first Buchla-format module is the "Triple Sublime Asseater", which simply combines the functions of the RK2, RK3 and RK4 in one 4U panel. Jacks are chosen and tested to accept Switchcraft Tini-Jax or 3.5mm jacks. It should fit any recent production Buchla/BEMI cabinet.
Power supplies used in those cabinets should be adequate–if you are using a recent BEMI cabinet make sure you have at least a 5.8 amp 12v "brick" supply. This module uses +12v and -15v power, the vast majority of the power (for the tube heaters) is provided by +12v. An adapter cable is included to accept power from a standard 200e power bus, however, if your supply does not provide +12v at a minimum of 3 amps, you will need to provide it from an added supply. Older 200 series cabinets might be "problematic".